ECCO People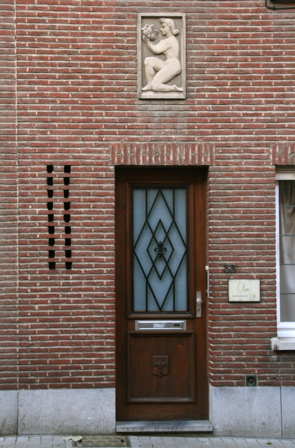 ECCO, the Evolution, Complexity and COgnition group, is an interdisciplinary research center affiliated with the Center Leo Apostel and the Global Brain Institute at the (Dutch-speaking) Free University of Brussels (VUB).
Address: ECCO, Center Leo Apostel, Vrije Universiteit Brussel,
Krijgskundestraat 33, B-1160 Brussels, Belgium
(This is just outside the main VUB campus, see map and directions; entrance to the Center: see photo on the right)
phone: +32-2-640 67 37
fax: +32-2-644 07 44
e-mail: secrecco at vub.ac.be (replace " at " by "@")
website: http://ecco.vub.ac.be
Members
The following lists the present members with their focus of research. "Core" members are those whose main research activities fall under ECCO; most of them make or have made a PhD under the guidance of F. Heylighen. The others participate in ECCO projects, but have their main activity elsewhere. All (and only) members subscribe to the [ECCO] mailing list for announcements and discussion. For more details on individual members, click on the name to go to the person's home page.
Director
Core members
Evo Busseniers: mathematical models of self-organization and hierarchy in networks and society
Jon Echanove: leadership and human experience in complex, uncertain environments
Dr. Carlos Gershenson: design and control of self-organizing systems via multiagent simulations; philosophy of complexity
Dr. Mixel Kiemen: evolutionary cybernetics, self-organization, and distributed cognition applied to Internet Innovation
Viktoras Veitas: systems approaches to policy design; AGI models of the emergence of cognition
Dr. Clement Vidal: evolutionary philosophy of cosmology; worldviews; applications of distributed cognition

David R. Weinbaum

(Weaver): future evolution of intelligence, and the complexity philosophy of Deleuze and Simondon
Petter Braathen: action ontology and role of paradoxes in social systems
Cadell Last: past and future evolution of humanity and technology, distributed governance

Dr.

Shima Beigi: sustainability and resilience of complex systems; mindfulness engineering; coping with uncertainty
Dr. Marta Lenartowicz: social systems as self-sustaining entities
Affiliated members
Olivier Auber: simplicity principles in cognition, and collaborative "poiesis" on the Internet
Tomas Veloz: chemical organization theory, autopoiesis and quantum cognition
John Stewart: evolution of greater cooperativeness and evolvability in organisms, society, and individual consciousness
Lotte van Lith: cognitive and emotional development of gifted adults
Dr. Vincenzo De Florio:resilience and organization in socio-technical systems
Dr. Marko Rodriguez: semantic network search; collective intelligence
Dr. Nagarjuna G.: knowledge structuring with semantic networks; free and open software; embodied cognition.
Prof. Dr. Em. Jan Bernheim: evolutionary, progressive world views, and measurement of well-being
Dr. Kris Verburgh: nutrition, ageing and evolution, evolution of the universe
Orion Maxted: theatre director working at the intersection of systems theory, computation and language to create 'computers made of people'.
Andreas Loengarov: multi-agent simulations of the multilevel evolution of social structures and networks.
Dr. Bertin Martens: cognitive mechanics of economic development and institutional change
Prof. Dr. Sayfan G. Borghini: urban ecology; stigmergy in the design of social environments
Prof. Dr. Frank Van Overwalle: connectionist models of social and distributed cognition
Prof. Dr. Em. John G. Messerly: transhumanism, evolutionary philosophy and the meaning of life
Dirk Bollen: situated and embodied cognition; emergence of intelligent organization from local interactions
John Smart: futurology; acceleration of technological evolution; developmental theories of cosmological evolution
Dr. Tanguy Coenen: social networks and distributed systems for knowledge sharing and creativity
Piet Holbrouck: developing a problem-solving toolbox to achieve non-zero sum solutions
Marc Goldchstein: complexity thinking for entrepreneurship and innovation
Tor Eigil Hodne: complexity theories applied to European knowledge governance
Dr. Nathalie Gontier: evolutionary epistemology of evolutionary mechanisms, with applications to language
Jen Watkins: collective intelligence in prediction markets and on the web
Prof.

Dr. Gustaaf Geeraerts: applications of complex systems models to international relations
Sharon Wohl: complex systems approach to spatial planning and urban systems
Helene Finidori: pattern languages for systemic transformation
Nathalie Mezza-Garcia: self-organization and complexity in political systems
Dirk P. Bruin: memetic theory of the firm
Tjorven Harmsen: Luhmann's theory of social systems and rehumanization of society
Photo: some ECCO members on the VUB Campus (Oct. 2008); left to right: Heylighen (Belgium), Vidal (France), Smart (USA), Nagarjuna (India), Stewart (Australia).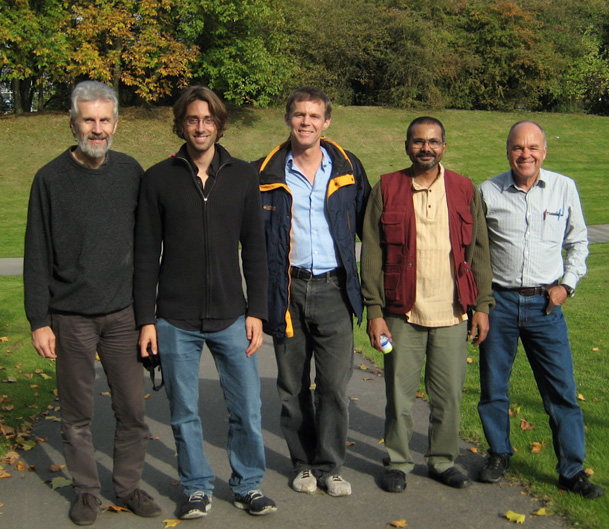 (Former) Students
Geert Biebaut: social construction of shared concepts
Francy Matthys: psychological aspects of collective intelligence
Edwin Stiers: philosophy of evolutionary well-being/paleolithic lifestyle
Blaise Holden: computer games for teaching cybernetic concepts and mindfulness
Ceyhun Carasu: epistemology of computer simulation
Paola Verhaert: the CyberSyn project; technology and society
Simon Johanning: complexity and evolution
Li Xiubo: philosophy of technology; self-organizing engineering systems



Former members
Prof. Dr. Johan Bollen:

information retrieval and self-organization in complex networks of documents

Leor Gruendlinger

: collective intelligence in prediction markets, and analogous processes in the brain

Erden Göktepe: complexity and self-organization theories applied to the emergence of international institutions
Dr. Mark Martin: modeling cognition as rapidly evolving neural firing patterns; memetics; evolution of morality
Nick Deschacht: complex dynamics models of long-term socio-economic evolution
Mehmet Tezcan: complexity theory applied to the modelling of international relations
Shwetambara Sabharwal: interaction between cognition and emotion in interpersonal conflicts
Øyvind Vada (deceased): evolution, complexity and cognition concepts applied to memetic governance.
Paul Iliano: systemic methods to improve individual, societal and organizational well-being
Prof. Dr. Em. Arthur De Vany: evolutionary fitness approach to diet and exercise; complexity in economics
Tom Erez: collaborative structuring of knowledge networks
Iavor Kostov: stigmergic knowledge development; evolution and development of biological organization
Collaboration with other groups